From the beginning, MudLOVE was created to do good. Our collective purpose is to disrupt patterns of brokenness with the thoughtful and creative pursuit of love. That means we work as a team, using the tools we have, to break continued cycles of hardship, poverty, and hurt. We believe in the ability of each person to use what they have to change the world. In our case, we have mud and creative hands. 
We knead love into our work. Our team puts thoughtful, skillful hands to the clay everyday to shape mud into love. Love becomes life channeled into creative fundraising solutions, unique and meaningful gifts, and helping underserved communities around the world. 
This purpose is possible thanks to people just like you. You understand the world is full of seemingly insurmountable injustices. But you also understand that even the attempt to disrupt those patterns is worth it. We create tools that give you the opportunity to shape your life and the life of your community. Together, we'll find ways, big and small, to show love and fill the world with hope.
Handmade
Every bracelet or mug is crafted by teams of artisans in the US and Dominican Republic. Learn more about the production process HERE.
Inspirational
We want to inspire the very best in you. Whether it's a simple word or a cute image, our products inspire the parts of you that are generous, compassionate, and hopeful. Read your stories HERE.
Clean Water
Water transforms mud into clay. In much the same way, access to clean water transforms a community. Read about our partnership with Water for Good HERE.
Our contribution is just a small piece in a global movement to fight against injustice. But a bracelet on the right wrist or a mug in the right hand can change someone's world. So whether you're fundraising for your second adoption, sending a "thinking of you" gift, or brightening a dark day, we've got your back.
Luke Wright
CEO
"My favorite elementary art project was making a bracelet. I still remember how to make them."
Whitney Wright
Co-CEO, Belove Owner
"My first childhood crush was my elementary school art teacher who taught me to throw on the wheel, who coincidentally looks like Luke."
Caleb France
Wholesale Sales Director
"The very core of our living spirit is our passion for adventure."
Josh Porter
Director, Vida Plena
Alberto Vargas
Operations Manager, Vida Plena
Mabelle
Supervisor, Community Director
"I love to invent games for kids at my church!"
Renet
Production Specialist
"I just had a baby daughter and I am enjoying some time off with her."
Haiden Evans
Customer Care Manager
"If you wanna dazzle you gotta take razzles... That's a dazzling way to say 'risks.'"
Alicia
Production Specialist
"I am learning multiple languages using Duolingo while I work."
Aubrey Hunter
Production Specialist
"When I was a kid I ate a lightbulb, which is where all my bright ideas come from."
Tamara
Production Specialist
"I run a hair braiding business out of my house which I'd love to grow!"
Karley Miller
Shipping Specialist
"If your ball is too big for your mouth, it's not yours."
Chrismalene
Production Specialist
"I love riding my bike really fast with my son on the handlebars or on the back!"
Tori Heinsman
Production Specialist
"I've spent too much time this year watching people bake things that I'm never going to attempt."
Mirtha
Production Specialist
"I am the worship leader at my church and sing in Creole, Spanish, and English."
Holly Bickel
Production Specialist
"Orange you glad I didn't say, "banana"?"
Damaris
Production Specialist
"I love to read and dance with my kids."
Bianca Mast
Production Specialist
"If you don't like something, change it. If you can't change it, change your attitude." -Maya Angelo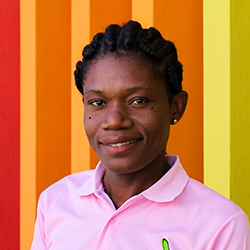 Michelle
Production Specialist
"I love reading, watching TV, and listening to music."
Nathan Pauls
Production Specialist
"I once played 12 rounds of disc golf in a National Old Growth Forest in Lincoln City, Oregon."
Patricia
Production Specialist
"I am a designer and painter."
Rocio
Production Specialist
"I love to listen to music and spend time with my kids."
Rouseline
Production Specialist
"I love learning new things and spending time with my kids."
Elisabette
Production Specialist
"I love going to the beach!"
Natasha
Production Specialist
"I love singing and dancing, eating a lot, and going to church."
Yvette
Production Specialist
"I love to dance and sing as well as watching YouTube videos."
Mirlande
Production Specialist
"I love watching soap operas and listening to music."
Lindsey Gross
Marketing Intern
"Striving to treat other like Chick-fil-A treats me."
Halyard Team
This amazing team assembles bracelets, elastics, and more!
Water for Good
Sunday,Monday,Tuesday,Wednesday,Thursday,Friday,Saturday
January,February,March,April,May,June,July,August,September,October,November,December
Not enough items available. Only [max] left.
Add to Wishlist
Browse Wishlist
Remove Wishlist